Foreword
Why this guide to campaign management tools?
Today (but this was already the case yesterday), there is a plethora of tools for managing (and generating) interactions with your customers and prospects. On the French market, you can easily find some forty solutions that fall under a name close to that of Customer Data Platform (CDP). campaign management tools eCRM and email routers (see below for a clarification of terminology).
To choose between these tools, most companies continue to compare the functional richness and put it in front of the price of the selected solutions! To proceed in this way is to risk being dazzled by the performance of a seasoned salesman, but to forget the main thing... to meet your needs, to serve your strategy and especially, to serve your customers!
This guide is therefore aimed at everyone involved in the process of purchasing a new solution, whether you're on the marketing, technical or operational side. We hope you'll find the resources you need to make your project a success, whether you're writing your specifications, selecting your shortlist or interviewing the various solutions.
Methodology and study participants
In order to conduct our ranking, we initially attended 17 demos lasting over 2 hours between September 2018 and January 2020. We also conducted a 1.5-hour debriefing interview with these same actors. The data collected is therefore not declarative, but was verified and challenged during these interviews. The Badsender team also participated in this benchmark by bringing its user vision on the tools used.
The following solutions have agreed to participate: Actito, Cheetah Digital, Digitaleo, Emarsys, Expert Sender, Mailjet, Mapp, Marketing 1by1, Sendethic, NP6, Oracle, Probance, Sarbacane, Scal-e, Selligent, Brevo, Smartprofile, Splio.
Several solutions preferred to decline or did not respond to our request: Adobe Campaign, Salesforce Marketing Cloud, IBM, Cabestan and Dolist.
During the demos, we filled out an analysis grid organized into 9 categories: general company information, customer type, business model, solution administration, data management, activation and channels, deliverability, automation, analytics, and connectors and APIs.
This guide is updated as often as possible to reflect the evolution of each player. We also update it when new players wish to be listed. They can contact us by sending an email to mailto:yesreply@badsender.com
Focus on terminologies
Advertisers are nowadays lost when faced with the ecosystem of tools available on the market. Service providers try to present themselves differently to stand out from the competition. Some call themselves a CDP (Customer Data Platform), others a Marketing Automation tool, an eCRM marketing campaign management tool, a DMP (Data Management Platform) or a marketing cloud tool.
It's true that when you listen to the sales pitches and look at the websites of the various service providers, they all offer the same promise: a unique customer vision for an increasingly personalized and scripted marketing experience. However, each tool has a dominant positioning that often comes from its DNA.
Below is a summary of the main terminologies used:
Email router
The term "email router" was used a lot in the early 2000s, as opposed to paper routers. It is still used today mainly to designate service providers focusing on the email channel. Their efforts are focused on the ease of creating messages and handling their tool. These tools are generally easy to use and intuitive, they have a large library of "ready to use" templates and a real CMS in drag and drop very flexible.
Marketing automation
These are tools that focus on techniques to automate data flows, automatically personalize content and trigger marketing messages. These tools are positioned more on the technicality and the possibility to automate everything. The idea is to improve the productivity of marketing teams by allowing them to industrialize their customer communication. The Marketing Automation tool integrates in addition to email, the SMS channel and some web forms. We often speak of marketing automation in the context of B2B tools rather than B2C.
eCRM marketing campaign management
Here, the focus is more on strategy, there is often a more or less long set up phase. This phase is animated by workshops to determine the customer data that will be useful for marketing purposes: what customer data will I want to bring back into my eCRM tool and which will be useful to segment and personalize my messages? The approach is customized. This can be transaction data from an e-commerce site or point-of-sale checkout tools, profile data from web forms, behavioral data from loyalty cards or programs... but also all the information from mail campaigns, call center, paper loyalty card management... Therefore, this type of tool encompasses email, SMS, forms, landing pages, surveys but also sometimes push notifications on mobile applications and web push.
CDP for Customer Data Platform
An acronym that has been used a lot in recent years, CDP is very similar to the eCRM tool described above. The distinction is made in the ability to collect browsing data and match it to a known contact (whose email address is already in the database). Therefore, all browsing traces contained in a cookie are added or "onboarded" to the contact profile. This offers more advanced segmentation and personalization possibilities than the eCRM tool since we have the so-called "instantaneous" data, also called "hot data" AND the classic "cold" eCRM data. In the literal sense of the term, a Customer Data Platform should focus solely on customer data and outsource the campaign activation part. However, those who call themselves CDP usually also manage the eCRM channels natively and add onsite personalization.
Marketing Cloud
Service providers who talk about Marketing Cloud usually have a whole range of additional tools to offer: a DMP to manage the advertising audiences of the media division, a lead management tool for sales representatives, a customer relationship management tool for the after-sales service department, etc. The Marketing Cloud integrates intelligent customer journey management solutions as well as voice messaging, social networking, digital advertising, content management, web analytics, etc., in order to respond to a truly cross-channel or even cross-media marketing strategy.
DMP for Data Management Platform
This acronym started to be used by marketing providers a few years ago before the term 'CDP' appeared. But the acronym DMP was probably not the right term to use when talking about marketing tools. DMP is mainly used by the media division of companies. The purpose of a DMP is to ingest anonymous data from surfing, to reconcile them around the cookie in order to produce digestible information that can be used by the media department. The collection of this web data quickly reaches a billion lines and unlike CRM, it is necessary to use a big data architecture to process this volume. It thus facilitates the purchase of programmatic advertising space. The DMP is connected to tools such as DSPs, SSPs, Adservers, etc. Since it has been possible to reconcile email addresses and cookies (onboarding technique), marketers have seen this as a great opportunity to enrich customer knowledge with "hot" navigation data from the DMP.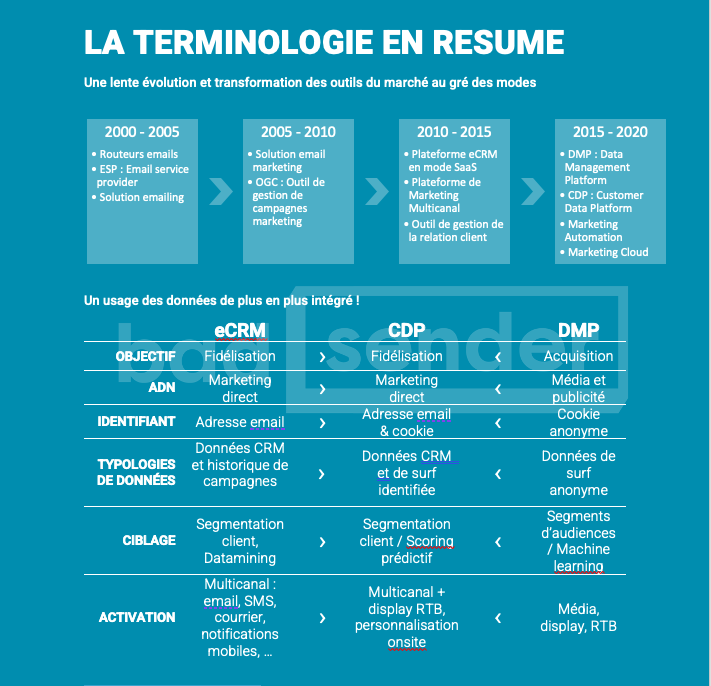 Benchmark
We did not want to establish a ranking with a first and a last! As you will see later, it is not the features that should direct your choice, but your needs! As such, each platform, in a specific case, can become your best choice. However, we have chosen to evaluate the maturity of the solutions on 6 criteria, on a scale of 1 to 5 (the thicker the circle, the higher the maturity).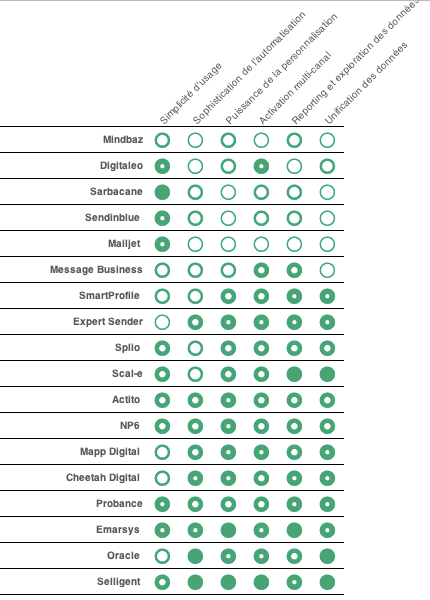 The strengths of the different solutions
In alphabetical order:
Actito Very rich in functionalities, Actito is distinguished by its simplicity of use and by the possibility of creating multi-table and customized data models in total autonomy. Actito also adapts very well to multi-brand environments with an advanced email personalization engine, which will be very useful in the press sector for example.
Actito Agile Marketing Automation Platform https://www.actito.com
Cheetah Digital Cheetah Digital is a highly technical tool that offers the user a great deal of freedom in editing and visualizing the data model he uses. The solution also allows a very fine management of user rights as well as advanced possibilities of distributed marketing.
Cheetah Digital we are dedicated to marketers https://www.cheetahdigital.com
Digitaleo : Digitaleo is 100% specialized in local marketing. It is intended for companies that have a network of physical sales outlets. The leitmotiv of the tool is to popularize and simplify as much as possible the use of all the marketing channels so that they are used by all the local teams.
Digitaleo Local Marketing Platform ****https://www.digitaleo.fr/
Emarsys Emarsys is a solution tailored to the retail and ecommerce sectors with ready-to-deploy data tables, but with the possibility of building the rest of the data model on demand. Emarsys stands out for its freedom of segmentation (up to using SQL) but also for its preconfigured scoring. Emarsys is one of the few companies to provide highly effective dashboards and data visualization reports that enable accurate and rapid decision-making.
Emarsys B2C Marketing Automation https://emarsys.com/
Expert Sender Expert Sender : Expert Sender, still little known on the French market, is a rather open solution where users can create their own data model, have access to deep technical statistics and get their hands in the tool to parameterize the solution as close as possible to their needs and their organization. Expert Sender manages email, SMS and web popup channels and also cookie matching because it is possible for advertisers to carry out retargeting operations via publisher databases that are also clients of the solution.
ExpertSender Multichannel Messaging Hub https://expertsender.fr/
Mailjet Over the last few years, Mailjet has put a lot of energy into developing its email builder and it can be said that it is unique on the market. It allows you to manage the construction of a campaign in a collaborative mode, to leave comments, to allow the marketer and the developer to work in parallel. This is clearly Mailjet's strong point compared to its competitors.
Mailjet Marketing and Transactional Emails https://fr.mailjet.com/
Mapp Mapp allows for the integration of relationship marketing data with that of its DMP. The solution also allows for advanced visualization of eCRM scenario performance.
Mapp Cloud A badass digital marketing platform https://mapp.com
Marketing 1by1 : We hesitated to put Marketing 1by1 in this list, as it does not offer direct activation. In fact, the Marketing 1by1 tool is a Customer Data Platform in the literal sense of the term. The strength of Marketing1by1 lies mainly in its ability to ingest, centralize and work with all types of data. The tool connects to other routing platforms to send emails. The query engine is extremely powerful and allows to get very fast counts on very complex requests. Well adapted to the retail/ecommerce sector as it offers many rules on product recommendation.
Marketing 1by1 CDP & Marketing Automation https://marketing1by1.com/
Sendethic Sendethic offers a very good price/support ratio. The tool is well suited to small and medium-sized businesses that need to be taken in hand, and have regular contact with the people in charge of the solution to help them develop their skills.
Sendethic Emailing, SMS, data and marketing automation https://www.sendethic.com/
NP6 NP6 has integrated the principles of RGPD in the heart of its solution by reminding the user of his obligations when it seems useful. The solution offers an extremely fine-tuned and complete user rights administration module. The new segmentation engine of NP6 is very graphical and designed to simply explore the available data.
NP6 Customer Data Platform and Marketing Automation https://www.np6.com/fr/
Oracle/Responsys Responsys benefits from a segmentation tool that is very different from other solutions, since it is very powerful and is organized in the form of a decision tree that allows you to visualize the potential of unused branches. The gateways between Responsys and Oracle's DMP (Bluekai) are effective and require little or no switching of platforms. The eCRM automation module is particularly well suited to critical scenarios, with the possibility of evolving and testing evolutions without stopping the scenario.
Oracle Integrated Cloud Applications and Platform https://www.oracle.com
Probability Probance One is a very easy to use solution which pre-makes the work of the users as easy as possible. Probance's leitmotiv is that each customer increases his income thanks to the use of their solution. For that, the tool allows to set up in a few clicks several scenarios corresponding to the best practices of the e-merchants with many ready-to-use scenarios.
Probability Multichannel Marketing Automation Platform https://www.probance.com
Sarbacane Pioneer of emailing in France, Sarbacane stands out for its email builder (but also form builder and landing page builder) which is very open and very flexible to use. The ergonomics is exemplary, the tool has quite advanced statistics and practical features that make the work of users easier. Another unusual feature on the market: Sarbacane is offered in web and software version.
Sarbacane Emailing, SMS, automation & advice https://www.sarbacane.com/
Scal-e: Scal-e is the right solution for companies with data-driven needs and multi-stream, multi-source data reconciliation. Scal-e swallows all types of raw unstructured data and takes care of everything to make the data digestible and transform it into customer information directly exploitable in marketing targeting.
Scal-e Customized customer marketing https://scal-e.com/fr/
Selligent Selligent is very rich in terms of functionality. Everything can be done by users in total autonomy. The construction of a custom and complex data model is feasible in 100% autonomy. The email builder is very powerful compared to competitors and allows very advanced email personalization.
Selligent Marketing Cloud https://www.selligent.com
Brevo : This solution, created in 2012, although young, stands out for the speed with which it introduces new features. Two strong points for this inexpensive tool when compared with the other solutions on this list: on the one hand, the ergonomics are exemplary, but above all, certain scripting functionalities have no reason to pale in comparison with certain historic platforms. Brevo is part of the Climate Act, the company's commitment to reducing its carbon footprint.
Brevo Emailing, SMS & Marketing Automation Software https://www.brevo.com/fr/
SmartProfile SmartProfile is a little-known but extremely effective solution for reconciling navigation and CRM data. Historically, Smartprofile is a web analytics tool. The tool is therefore well wired to ingest website navigation, mobile application (and even Alexa!) and also CRM data. The tool also natively manages a multitude of channels: email, SMS, surveys, landing pages, forms, web push, pop-in... The list of pre-configured dashboards is impressive. SmartProfile also offers a possibility that has become rare on the market, that of being able to deploy the solution on its customers' servers (in on-premise mode). This is an important possibility for certain sectors of activity.
Smartprofile Marketing automation software at your fingertips http://www.smartp.com
Reading content isn't everything. The best way is to talk to us.
Splio Splio's strong point is without a doubt its ability to deploy its platform very quickly for retailers and e-merchants. The solution is really tailored to these industries, with a ready-to-deploy data model designed specifically for them. Splio also invests a lot of effort in its solution dedicated to the creation of loyalty programs "in a few clicks". Splio is also part of the Climate Act, the company is committed to reducing its carbon footprint.
Splio The omnichannel marketing platform https://www.splio.com/
Define your needs
Before you start looking for a new tool, you need to be clear about the strategy you want to adopt! Do you just want to keep on spraying all your lists with your newsletters without segmenting? In that case, your needs will be simple. Or do you want to trigger your messages at the right time, depending on the activity and maturity of your customers and prospects? In that case, you should make an inventory of the scenarios, messages, channels, data, ... you need.
Once you have your strategy on paper, you can start looking for your new eCRM solution!
How independent do you need to be in handling the tool?
Ergonomics (or ease of use) is an often undervalued selection criterion. However, to be used to its full potential, a marketing tool must be "user-friendly". It is essential to choose a tool that corresponds to the profile and skills of the people who will use the platform on a daily basis.
There are several types of profiles:
There are those who are comfortable using the tools: they like to dive headlong into them, spend time setting up campaigns, querying segments...they often have knowledge of programming languages and want to be able to 'enter the tool' to touch the code
There are those who have a marketing side with a good vision of the strategy they want to implement: they want to be able to create their own marketing scenarios, in a simple and quick way, without spending too much time on it
There are those who have no HTML knowledge but need to create emailings sometimes in a hurry
Reading content isn't everything. The best way is to talk to us.
Be autonomous in creating messages and sending simple emailings
Do you send out a lot of marketing campaigns with sometimes very short design deadlines? Then you need a tool where you will be able to easily create (by drag and drop) your messages without putting your hands in the HTML code. You need a "user friendly" tool, easy to handle, so that it can ensure the sending of your marketing campaigns, without hindrance, with obvious shortcuts, for simple and frequent actions.
Be autonomous in setting up marketing scenarios
You need a tool that has a campaign scripting module, also known as a workflow module, that is open and flexible enough, with a maximum number of objects and advanced options available, so that you can carry out your scenarios completely independently. You need reassurance messages to minimize errors, an active telephone support to accompany you.
Outsource campaign management
You are not numerous, or even alone to manage your emailing/eCRM strategy. You want to unload the operational part to focus on the strategic part. You need to rely on a full service team that manages the segments, the message creation and the sending of your campaigns for you. You take care of the briefing and the validation of the proof.
Which channels do you want to activate?
Email + sms
Most eCRM strategies still rely mainly on the email channel when it comes to activating contacts in the database. It is certainly the same for you!
Why email as a priority? Simply because it is the personal data that is most universally requested, whether it be when registering for an online service or purchasing on an eCommerce site (everyone always agrees to receive a purchase confirmation email). Email is a channel that is well known and mastered by your customers and prospects, it is most likely the basic element of your eCRM strategy, it is a must-have tool.
The other channel that will be easy to exploit is SMS. Given the importance of mobility in relationship marketing strategies, cell phone numbers are increasingly used by applications to manage registrations/identifications (think of apps like WhatsApp that never ask for an email address). The cell phone number has thus become a strategic data, and the best way to activate it is nowadays SMS.
Email and SMS are therefore the two basic channels that should be used in any eCRM strategy.
Push web, push mobile
For a few years, the web push has appeared. This channel allows you to communicate with your subscribers directly from their browser.
In the same spirit, the mobile push allows you to send personalized messages to your customers once they have installed your application and identified themselves in it, using the data contained in your CRM or CDP database. Few routing tools (but there are some!) natively include the sending of web push or mobile app push. In general, they offer a connection with tools specialized in these channels.
On-site personalization
We limit ourselves here to the display of banners on your site, and not on third-party advertising networks (even if some vendors offer integration with a DMP). The idea is to personalize, in real time, certain areas of your site according to the profile of the visitor who is there. For example, if you know that Mr. Michu has mainly browsed your cycling pages during his previous visits, you will highlight a specific promotion for this department on your homepage, during his next visit.
Facebook and Google Ads audiences
Whether it is on Facebook, Google Ads (or even Twitter or other platforms), it is now possible to send audiences in order to perform ad targeting using your CRM data. These audiences use the email addresses of your contacts and can be used in 3 different ways:
Target your contacts directly with advertising
Pushing your contacts away so that they are not targeted
Use your contacts to find an audience that looks like them
For example, Facebook audiences can be very interesting in strategies to reactivate inactive audiences.
Tailor-made channel integration needs
You may also need another channel that can be accessed directly in your campaign management tool. In some cases, it is possible to use connectors or to develop custom ones. For example, a link to a paper router, a printer, an after-sales service complaint tool, connected terminals, etc. There are many possibilities.
? In summary, the choices available to you!
Only email (and maybe SMS)
Same + Web push, mobile push
The same + customization on site
The same + Facebook and Google Ads audience
The same + customized integrations
What automated scenarios do you want to deploy?
Automation has been a strong objective of any eCRM strategy for years, in order to better personalize messages, to send them at the most appropriate time, but also to reduce the pressure of newsletters (more automation, less "non-targeted" messages).
Classic scenarios (confirmation, welcome, etc.)
This is the beaba of eCRM automation. We usually cite the welcome, inactive and abandoned cart management triptychs as the most important scenarios to deploy, well before all the others. To this we could add the classic birthday emails or more generally triggers based on a date in the recipient's profile. This is the basis, and all eCRM solutions should have it!
Customize your scenarios as little as possible
You may not need hyper-complex scenarios, but you would still like to use several branches. When we talk about branches, we mean for example taking a different direction (to send different messages, or using a different rhythm) depending on the data available in the recipient's profile (customer vs. prospect, male vs. female, active vs. inactive, ...).
Multi-trigger scenarios and links between scenarios
There comes a point in your eCRM strategy where your scenarios become more and more complex. Where previously you didn't need to, it becomes essential to be able to trigger some of your scenarios in several possible ways. Also, when a scenario becomes very complex, for the sake of maintenance, it may be necessary to divide its execution into several sub-scenarios.
Critical scenarios that can "never" be paused!
This is the most advanced stage. Your scenarios are so sensitive and critical to your business that they can never be paused. You need to be able to work on evolutions or fixes to them without having to stop them. You need to be able to test new versions and push them into production without people in the middle of your scenarios losing their history.
What data do you need for your eCRM strategy?
Centralizing the personal data of its customers or prospects in a unique database is one of the objectives of a marketing campaign management tool. But data is only of interest if it is usable and useful for marketing or commercial purposes. In concrete terms, this means listing the data that you feel is relevant to your business.
Profile data
You may be at the beginning of your emailing/eCRM strategy and you are currently only collecting data from your newsletter registration form such as name, first name, email address, date of birth or location or maybe even interests.
Profile data + sales data (and product catalog)
You are an e-merchant or a retailer? You have sales channels such as a transactional site and a network of stores. In addition to profile data, you want to collect transaction data such as purchase date, amount, product description, product image. You want to be able to personalize your messages by recommending products based on previous purchases.
Profile data + behavioral data
You are neither a merchant nor a retailer. Nevertheless, your activity leads you to collect leads that will be converted later by another device like telesales. To qualify these leads, you set up download forms, profile qualification forms and satisfaction questionnaires. You naturally want to collect the data entered in the forms, the answers to the satisfaction questionnaires and also know if the forms or key web pages of your website have been visited, when and by whom.
Made to measure
Your activity is based on a specific information system and you need to be linked to a subscription management tool, a donation management tool, a customer repository, an ERP, a banking system, a remote content management tool, etc.
+ navigation data
Are you monetizing your database or do you want to take your emailing/eCRM strategy a step further? Would knowing your contacts' browsing history be a real advantage for you? You need to use hot data from web browsing to re-trigger your contacts based on recently visited web pages. We are not talking about visiting key web pages such as shopping cart or payment forms or white paper download forms... We are talking about capturing the browsing history (surfing) and matching it to an existing contact in the database (whose email address we have).
What are your message personalization needs?
Personalizing the relationship with the customer has become a priority today. A personalized message performs better than a standard message. The promise of personalization is simple: to increase the user's engagement and therefore his value or potential.
Customization of profile fields
Using the personal data that your recipients have given you when they signed up for the newsletter or when they answered a form, such as last name, first name, city, should be sufficient.
Modify portions of messages based on data in the recipient's profile
You want to personalize some parts of your emails (images + texts) according to criteria: his status (if he is a customer or not), his last purchased product, the behavior related to the previous email (last click on such link).
Recommend products/services based on the recipient's purchase or browsing history
You want to personalize your emails by recommending items, products or services based on interests observed during previous purchases, clicks made or web pages visited. Or even personalize your messages according to the best sales of the moment, products to be sold out, products with higher margins... (regardless of the recipients' profile).
Personalize messages according to the recipient's emailing/eCRM activity or non-activity
You want to personalize your messages to warn of a possible departure according to the absence of activity observed (no opening, no click or click on a cancellation page etc...). Conversely, you want to personalize your messages to reward your best contacts for a large number of purchases, shopping carts spent or systematic clicks in your emailings.
Change the appearance of messages according to the brand of which the recipient is a customer
You want to fully customize your emails to reinforce the feeling of belonging to a brand, a magazine, a sign...You want to change the logo, the font style, the color of the buttons, etc...depending on the product or service the contact has subscribed to.
Personalize messages according to the context in which they are read
You want to go a step further in the relationship with your customers by providing them with additional information that could impact, for example, their visit to a physical location (weather conditions, traffic, availability of parking, 4G coverage ...)
What statistical reporting do you need to measure your emailing/eCRM strategy?
Emailing tools generally provide so-called "pre-click" statistics, i.e. until the user clicks on the email. From the click on, some tools do not have the ability to track users anymore, unless they integrate a specific tracking script on the pages, forms or landing pages. The question you need to ask yourself to define your needs in terms of statistics is: with which indicators can I evaluate the success of my emailing/eCRM strategy?
Measure statistical returns for each email sent
You send mainly emailing campaigns like newsletters. You need to know the main key indicators after each message sent: bounce rate, open rate, click rate, reactivity rate and unsubscribe rate.
Measure statistical returns from mobile campaigns: SMS, push notifications
You also use the mobile channel like SMS or push notifications on mobile application. So you want to know the statistics on the reception rate, the click rate on the short link, the response rate.
Measure the ROI of your campaigns
It is very useful to know the impact of your email campaigns on your web strategy (purchases related to sending newsletters). It is important to understand the role of email marketing in relation to your other channels (affiliation, adwords...). To calculate your ROI, you need "post-click" statistics in order to understand the behavior of Internet users who clicked on a link contained in your email: such as the number of visitors, the pages visited, the respondents to the forms, the turnover generated by your campaigns, the transformation rate, the impact on your web traffic, ...
Measure the impact of your marketing scenarios on your performance and the number of contacts in your database
Triggers and scripted paths materialize an exchange between your brand and your contacts. These messages play a crucial role in customer relations. They are without a doubt the type of emails your contacts expect and want the most. You need to know if these scenarios have an impact on your overall strategy in terms of conversions and the evolution of the number of contacts in your database. How many people did I reactivate in total over 6 months? How many conversions are generated by anniversary emails? How many first time buyers have triggered my welcome scenario?
Measuring customer value and identifying contact potential
Not all contacts deserve the same attention. Those with significant business potential must be identified. Determining the value of your customers will allow you to implement the right marketing messages. Categorizing contacts according to their potential in terms of orders, according to the centers of interest detected or according to their emailing activity can prove to be very effective. It is a question of crossing and "playing" with all the statistics of marketing campaign returns by crossing them with all the data you have on your contacts. A real decision-making tool, the idea is to understand how your base really works.
Monitor deliverability
In fact, it is not a "need" but a "must". There is no successful email marketing without a good deliverability rate. If your emails are not delivered, they have no chance of being opened, let alone clicked. That's why an increase or decrease of a few percent in deliverability can have a significant impact on the ROI of your marketing campaigns. You need to track your deliverability in order to know: the quality of your addresses, the number of messages that arrive in inboxes vs. spam, the quality of your reputation by email system...
Summarize your needs and shortlist!
Synthesizing your needs is only the first step, which is essential, and will allow you to write your specifications. In this one, you will have to start from your marketing needs to deduce the technical features you will need.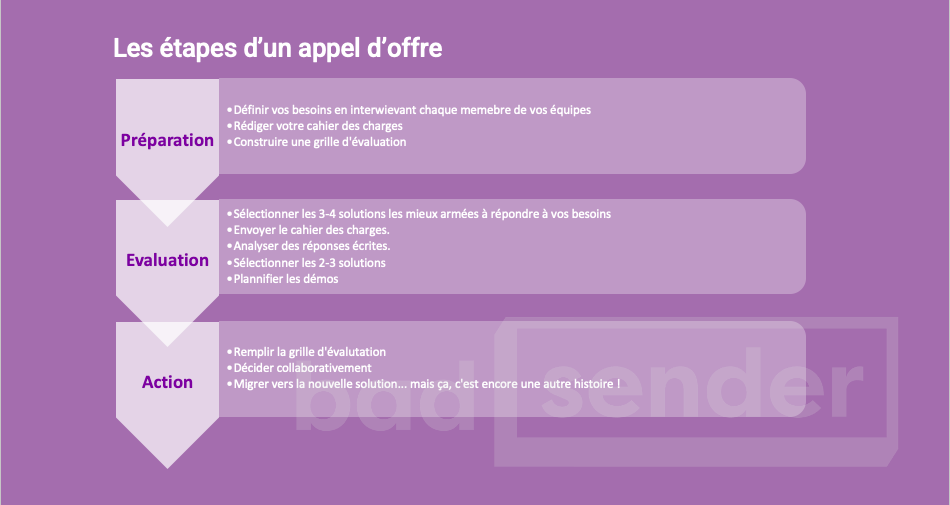 Some final tips:
In your specifications, you should try to challenge the solution providers. They should not simply answer yes or no to a series of questions. By asking closed questions, you will get almost 100% of "Yes it can be done". Instead, present one or two use cases related to your most important needs, and ask the vendors to present a solution to these, either in writing or during the demonstration.
If you start from your needs to write your specifications, the evaluation grid will still have to translate them into functionalities and priorities. Without being an immutable framework, the evaluation criteria presented above are particularly useful for challenging solution providers. But also think about :
User rights management You will be able to add a user, define his role, his accesses...
Distributed marketing You can give access to a sub-database, to specific segments, to certain templates...
General autonomy Am I globally autonomous to execute the tasks or do I have to systematically go through my account manager or through the support?
A/B testing : the email channel is made to be tested all the time, at each sending, you have to take advantage of it !
Commercial pressure How is it managed within the platform?
Other criteria, much less functional but not to be neglected to establish a relationship of partner rather than provider:
The quality of the support offered and the accompaniment The main problem is that setting up a campaign management tool generates a certain technical complexity due to the numerous flows to be centralized. And even once it is in place and used on a day-to-day basis, technical or operational problems will make the tool difficult to use. A competent support in France, reachable by phone and reactive, can, for example, bring a real plus compared to a delocalized support.
The composition and size of the teams can give you an idea of the sensitivity of the provider.
Types of clients who use their solution: this will give you an idea of the sectors of activity in which the solution is comfortable. And ask, why not, the opinion of existing customers.
Geographic location If your strategy is international, it can be interesting.
The cost The cost of a campaign management tool is a substantial budget, in the order of several tens of thousands of euros per year, not to mention several weeks (or months) of human investment to set it up and build up skills. The economic model can vary from one provider to another. To summarize, there are 3 types of business models:

billing by number of emails sent,
invoicing according to the number of contacts hosted in the base (capped) + the number of emails sent
invoicing only by the number of contacts hosted in the base.

To this, you must add the first year set-up costs (setting up the flows to implement your CRM/Datamart Marketing database) and training. Some of them also offer paying options to contact the support, to be accompanied by a Customer Success Manager or to monitor your deliverability.
Carbon footprint Taking into account the environmental impact of your emailing strategy should be one of your priorities more than ever. Some tools (still too few) are committed to a low-carbon policy and orient their development in this direction. They provide very clear figures on the carbon footprint of an email sent from their routing tool. This allows advertisers to easily calculate the carbon footprint of their emailing strategy.
Have fun 😉
Acknowledgements
Many thanks to Actito, Cheetah Digital, Emarsys, Mailjet, Mapp, Marketing 1by1, NP6, Smartprofile, Oracle, Selligent, Brevo, Splio, Probance Sarbacane, Scal-e for agreeing to take part in our first edition of the eCRM campaign management solutions benchmark. Thank you for the trust you placed in us, the time you devoted to the demonstration and the Q&A session!
Thank you also to the whole Badsender team for having contributed to the building by giving the user's opinion, which is so important to get rid of the demo effect and realize the real possibilities of the tools.
And finally, thank you to Anais for her meticulous proofreading and her novice's eye which forces us to strive for ever greater pedagogy and clarity.