Dear community,
I would have liked to tell you that at the end of this year I took the time to write to you by the fire. But the truth is that I did it in a hurry, in several times ... and sometimes in the middle of the night (like these words, just now) ... the routine what.
Like everyone else, this year-end was crazy in more ways than one. But it was worth it to take a look back because we did a crazy job... and it even went all over the place sometimes. And we like to share things at Badsender.
(You tell us if the exercise is fun or if it stinks of greed).
Team
This year there has been a lot of movement (and some very nice meetings). In addition to the 7 core people, we have permanently hosted 3 individuals who have largely participated in the growth of Badsender!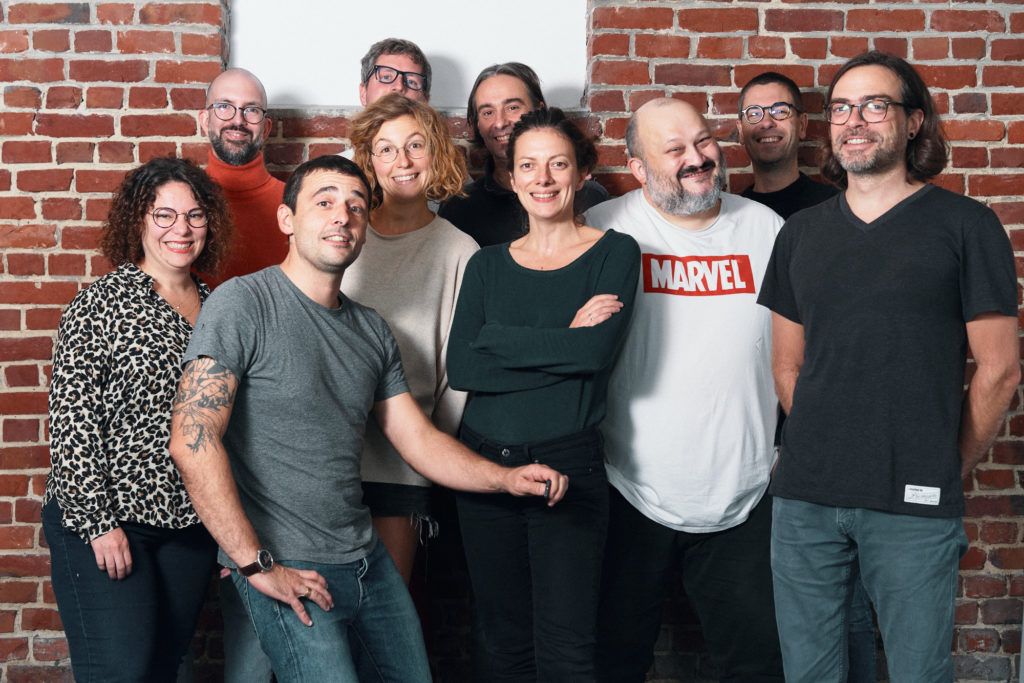 Pierrewho came to lend us a hand in design-inté and who took the time to train himself in the design of LePatron master templates. It seems that he is made for Badsender, ex-neo-belgian, totally fussy and perfectionist on a little bit of everything, a little bit offbeat, ... It's a good match ! Pierre, it's a little surfing, a lot of motorcycle and wine fairs.
Solènewho has the dream life of a good half of the team. Half geek, half sheep breeder. It was in fact at the end of 2020 that Solène started helping us with the integration of master templates in our email editor. And without her, we probably wouldn't have kept up this year. If during 12 months she lied to us by telling us that her webcam was broken, we are now happy to see her face at our 9:31 meetings.
Olivierah, Olivier. A childhood friend of Pierre's that he brought back to us. It all starts with an audit of our development practices of the Boss. And just a few weeks later, Olivier became Product Owner of our email editor. King of digital cleaning and organization, Olivier has already left his mark on Badsender with his ruthless vision of project management. Sometimes he scares us. But only a few months after his arrival, he is I-N-D-I-S-P-E-N-S-A-B-L-E. And since he works 4-day weeks to reserve 3 days a week for climbing, we are a little jealous!
But that's not all! We have also started 3 collaborations (very) slightly less regular, but very important for us. With Sébastien Courtecuisse (writing, project and campaign management), Audrey Roussel (consulting) and Jonathan André (campaign management on Klaviyo).
Sales and new customers
2020 was a year... strange for everyone. A year in which Badsender, despite a decline in turnover, had managed to remain profitable. In 2021, the acceleration is absolutely huge as thewe grow by 50% compared to 2020 and even 25% compared to 2019 which was already a good year.
This growth has been made possible by the confidence of our historical clients (Prisma, the French Tennis Federation, CMI Publishing, Antargaz, Younited Credit, Reworld Media, Unique Heritage Presse, Beobank, Engie, L'Equipe, etc.).
But also themany new customers in 2021among others, came for our email editor (Clarins, Vorwerk, Saint Gobain, Editis-Interforum, Cambium, Continental, B-Sharpe, J&Joy, Wurth, Absys Cyborg, Byredo, Ouest-France, Lavazza, WWF, Ixina, etc.)
However, everything is not simple, Badsender remains a small structure and the associates are only members of the team (see below). The subject of the treasury remains a daily challenge in an activity which is very seasonal. We make it a point to pay all the salaries of our associates on time... not always simple when we are paid 2 months later by some of our clients (yes there is a message 😉 it always feels good to remind some realities).
That's whyin 2022, our objective will be to control this growth so we don't put ourselves in danger. Quality, interesting projects, with clients who want to become long-term partners.
Shareholders + employees
As a follow-up to the previous point, we have decided this year to bring in more and more employees in the company's capital. In September, Marion Duchatelet, Sébastien Fischer and Fabien Vanacker participated in a small capital increase and joined Marion Moillet, Grégory Van Gilsen and myself in the capital.
In early 2022, we will also award free shares to all employees (so not everyone 😉 ).
Reading content isn't everything. The best way is to talk to us.
Our goal has always been to be as transparent as possible with everyone. That's why every month we present the previous month's figures at the 9:31 meeting for all employees, whether they are shareholders, employees or even freelancers (at least those who have logged in 😉 ).
Ah, yes, it's not really a question of ownership, but I'll put it here anyway: we moved our headquarters to Montrealbut not necessarily the one you think of first. It doesn't make much difference, we are all still telecommuting anyway.
Climate
Another ambition of Badsender is to take our responsibilities towards the world around us. In 2021, we have mainly carried out 3 actions
Fresco of the climate : At the beginning of the year, we did a Climate Fresco workshop with Isabelle Buisine. This was an opportunity for the whole team to get up to date on climate issues. The objective was not necessarily to come up with a concrete action plan, but to understand the different aspects of climate change.
Expiration dates in emails #ZeroCarbonEmail: In March, we satellited an idea to add expiration dates to commercial emails to make it easier for email providers to delete them. After 9 months, the project is well underway! More than 60 companies support the project, and a draft technical specification has been published. We expect the first implementations from mailbox providers by the end of 2022.
Migration of our IT to Infomaniak As a concrete action, Badsender has decided to migrate a large part of its IT infrastructure to one of the most environmentally friendly hosting companies. To achieve this, we have relied on many OpenSource solutions that have the advantage of being able to be hosted wherever we want. This move has also allowed us to be less dependent on GAFAM. All details can be found here.
In 2022, to continue this effort, we have decided to carry out a carbon assessment of our direct and especially indirect activities. This will enable us to continue to move forward, but this time with the support of specialists. Our objective is also to continue to communicate on these subjects with the greatest possible transparency. Not to do greenwashing, but to give examples of what can be done in the digital world, in order to improve our carbon footprint.
Donations
In 2020, we made a donation to Secours Populaire as part of our "The 24 days of email". Unfortunately, this year, due to lack of time, we did not continue the organization of the 24 days.
So, this year, even if the cash flow is not always good, we still wanted to make an end of year gesture. Each member of the team proposed an association (WWF, Protect our Winters, En avant toute(s), Œuvres des pupilles des pompiers, ...), and each one voted (two votes per person) for the associations which were the most important to them.
And these are the "Clowns of Hope"which won the most votes. The clowns bring a little lightness to the pediatric wards of the Nord Pas de Calais region. Don't hesitate to support them (the other associations are very good too?)!
The Boss
El Patron, The Boss, De baas, Il capo, ... New website, new product manager, lots of new features, move to Open Source, lots of new customers, ... it is nothing to say thatwe worked this year on our email editor. By the way, I'm not going to do it all again here since Marion and Olivier have already done it on the project blog.
Do not hesitate to contact us if you want to industrialize the production of your emails.
You have to eat at the end of the month!
There are probably many things to say, but we also wanted to share with you a reflection that we often have internally. Many people know Badsender for the numerous contents we publish since 2010s, the livess, the articless, white papers resources, …
But all this takes time, and at the end of the month, we have to feed our families (besides they are hungry a little more often than at the end of the month).
That's why for some time now, the commercial showcase of Badsender (to promote the agency and Le Patron) always takes up a little more space. It all started two years ago when Badsender.com's home page stopped being dedicated to the blog. And you may have noticed a few more commercial emails than before (we'll try to limit ourselves to one a month).
However, we are firmly committed to ensuring that our articles do not become advertorials. We want to share our expertise as neutrally as possible. If you can do it on your own (with the possible help of our content), all the better.
But if you need an expert's help. Come and say hello ? !
Thank you!
Thanks to all, team members, customers, readers, partners, competitors, ... for making this adventure possible (shit I'm crying now). And then in 2022 we'll have a lot of fun too (and stress from time to time when the treasury will be tense?).
I wish you a year full of outdoor escapades (you don't have to go far to recharge your batteries), of discoveries and various delights.