As you know, there are a lot of tools to send email campaigns. Some of them claim to be a CDP (for Customer Data Platfom)others a Marketing Automation tool, an eCRM marketing campaign management tool, a DMP (Data Management Platform) or a cloud marketing tool.
In short, it can be very confusing! Plus, all these tools make the same promise: build a unique customer vision for an increasingly personalized and scripted marketing experience. Nevertheless, each tool has a dominant positioning that often comes from its DNA.
At the time of choose a toolIt is always interesting to understand its dominant positioning. The idea is to determine if it is the tool that will best serve your marketing strategy. Because we can't repeat it enough at Badsender :
You should not choose a tool according to its functional richness but according to your real needs.

We ourselves
Here is a summary of the main terminologies used, which you can also find in our White Paper/Benchmark on marketing campaign management tools.
Email Router
The term "email router" was used a lot in the early 2000s, as opposed to paper routers. It is still used today mainly to sign up providers focusing mainly on the email channel. Their efforts are focused on the ease of creating messages and handling their tool. These tools are generally easy to use and intuitive, they have a large library of templates "ready to use" and a real CMS in drag and drop very flexible.
Marketing Automation Tool
These tools focus on techniques to automate data flows, automatically personalize content and trigger marketing messages. These tools are positioned more on the technicality and the possibility to automate everything. The idea is to improve the productivity of marketing teams by allowing them to industrialize their customer communication. The Marketing Automation tool integrates in addition to email, the SMS channel and some web forms. Marketing automation is more often talked about in the context of B2B tools than B2C.
eCRM marketing campaign management tool
Here, the focus is more on strategy, there is often a more or less long set up phase. This phase is animated by workshops to determine the customer data that will be useful for marketing purposes: what customer data will I want to retrieve in my eCRM tool that will be useful for segmenting and personalizing my messages? The approach is tailor-made. This can be transaction data from an e-commerce site or point-of-sale tools, profile data from web forms, behavioral data from loyalty cards or programs ... but also all the information from the return of postal campaigns, call center, management of paper loyalty card....but also all the information coming from the returns of mail campaigns, call center, paper loyalty card management... Therefore, this type of tool includes email, SMS, forms, landing pages, surveys but also sometimes push notifications on mobile application.
The CDP (For Customer Data Platform)
An acronym that has been used a lot in recent years, CDP is very similar to the eCRM tool described above. The distinction is in the possibility, in addition, collect navigation data and match it to a known contact (whose email address is already in the database). As a result, all the browsing traces contained in a cookie are added or 'onboarded' to the contact profile. This offers more advanced segmentation and personalization possibilities than the eCRM tool since we have the so-called "instantaneous" data, also called "hot data" AND the classic eCRM "cold" data. In the literal sense of the term, a Customer Data Platform should focus only on customer data and outsource the campaign activation part. Nevertheless, those who call themselves CDP also manage eCRM channels natively by adding onsite personalization.
Marketing in the cloud
Providers who talk about Marketing Cloud usually have a whole range of additional tools to offer: a DMP to manage the advertising audiences of the Media player, a lead management tool for sales, a customer relationship management tool for the customer service department. The Marketing Cloud integrates intelligent customer journey management solutions as well as voicemail, social networking, digital advertising, content management, web analytics, etc. to respond to the needs of the market. a truly cross-channel or cross-media marketing strategy.
The DMP (for Data Management Platform)
This acronym started to be used by marketing providers a few years ago before the term 'CDP' appeared. But the acronym DMP was probably not the right term to use when talking about marketing tools. DMP is mainly used by the media division of companies. The purpose of a DMP is to ingest anonymous data from surfing, to reconcile them around the cookie in order to produce digestible information that can be used by the media department. The collection of this web data quickly reaches a billion lines and unlike CRM, it is necessary to use a big data architecture to process this volume. It also facilitates the purchase of programmatic advertising space. The DMP is connected to tools such as DSP, SSP, Adservers... Since it is possible to reconcile the email address and the cookie (onboarding technique)Marketers saw this as a great opportunity to enrich customer knowledge with "hot" navigation data from the DMP.
For those who prefer a more synthetic summary: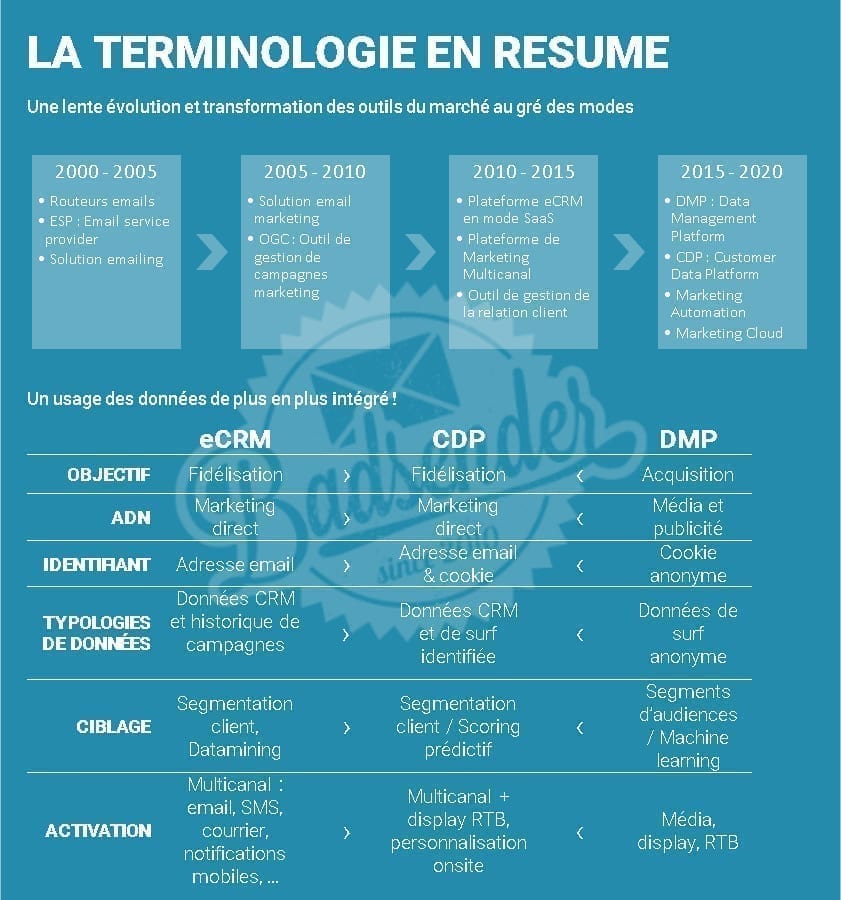 Excerpt from
White Paper/Benchmark on marketing campaign management tools
.
This white paper/benchmark aims to explain how to choose your next eCRM campaign management solution. To do so, we have divided this document into 3 main parts:
- A focus on terminologies
- A benchmark of 15 solutions analyzed (Actito, Cheetah Digital, Emarsys, Expert Sender, Mailjet, Mapp, Marketing 1by1, NP6, NSP, Oracle, Probance, Selligent, Sendinblue, Splio, Sarbacane)
- The REAL criteria for choosing a solution
If you want to be guided to choose the solution that will best serve your eCRM strategy, do not hesitate to contact us !